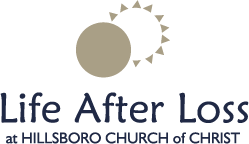 Life After Loss is a class for people who have experienced a loss of any kind. There are over 40 kinds of losses that can produce the range of emotion called grief. While we never compare losses, any list would include death, divorce, retirement, moving, pet loss, financial and health issues, and relationships that don't meet our expectations.
THE LEADERS
Lee and Sue Richardson. They took this class 13 months after their son, Brooks, died of complications from chemotherapy to treat leukemia. They found themselves struggling to live their lives under a cloud of grief. This program brought them the relief they were looking for, and they want to share it with others. They are not grief counselors. They are guides, helping others to work through unresolved grief.
THE PROGRAM
The class meets on Sunday evenings at 5:30 – 7:00 p.m. It is offered for 12 weeks: March – May and September – November. This is not a drop in group. After the first two weeks, no one else will be allowed to join. The class looks at the ways society teaches us to deal with our grief and why these ways do not work. Then, by taking small steps, each member of the class is taught a new way to say goodbye to the pain of a loss.
THE COMMITMENT
The Life After Loss program is not an occasional, drop-in group. For the safety and success of all participants, commitment and attendance are essential. For more information, contact Lee and Sue Richardson.
The class was a true blessing for me and made grieving 'healthy'- I'm able to remember the time I had with my child in a different light, one that makes me appreciate the time I had, however brief it was, with him." -SW
Before this class, I felt as if I had no hope and that I was sinking fast. I definitely have a changed /different life thanks to your class. -JP
I now have a peace within that I did not have before the death of my parents. This class has blessed my life in a time I needed it. –LW
There is no means and no one who can erase the pain of losing a child but I found there is a method of working through that dark valley of pain and then discovering light and recovery in coming out of the valley. –BO
After completing the class, I can highly recommend it. I must admit I was skeptical that any thing could relieve the paralyzing pain from loss I was feeling. The teachers are knowledgeable and compassionate. It made me want to work harder to achieve the same peace they had achieved. –DR
The class was hard but it was an amazing journey. Thank you both for holding my hand and help me through it. Thank you for teaching me to be real with myself and my emotions. –PR
The healing that you helped me achieve in that time after the death of my mother and before the birth of our daughter has been so beneficial not just to me but also to my husband and daughter and also to the son we now have on the way. –MB